Our 7th Annual Synchronized Christmas Display (2012)
Unfortunately we will not setup our lights display this year (2012). We recently welcomed a new baby home. Between having 2 kids under the age of two and some work deadlines in November, there simply wasn't enough time to set it up this year. We plan to set it up again next year (Christmas 2013). Please stop back then. Happy holidays!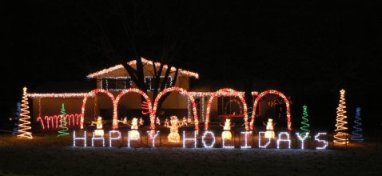 Welcome to the home of our holiday light display. Our lights are synchronized to music. You can tune your vehicle's FM radio to the posted station in front of the display to hear the music. A complete list of songs is also given in order of the actual playlist.
This display was first operational in 2006. At that time, it used 46 switched channels and featured 7 different songs. Additional display elements were added for 2007 resulting in a total of 95 switched channels. This included 41 custom made letters. In 2010, new arches were added with separate red and white control driving the channel count up to 100.
The software and hardware associated with the display were completely designed from scratch. Some of the actual Christmas lights and the FM transmitter were the only commercial products used in its creation. The design is based upon applied mathematics and science. It is a fun (albeit trivial) example of one of the many things that are possible given knowledge about engineering. I am hopeful that seeing this may encourage students to pursue studies in math and science and consider a career in engineering.
You can watch video footage of our lights, see pictures, and get more information using the links at the top of this page.
New Text Messaging Control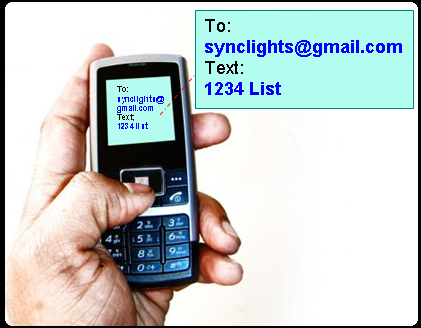 Starting in 2010, it is now possible to control our display with your cell phone. You can text message in requests to control which song is played next. All you need is a cell phone with text or picture messaging. Just send a text message to the texting email address and instructions will be sent back to you. For more information about this feature and a list of supported commands, click here.
Visiting the Display
In 2011 the lights will be running starting on Thanksgiving through about the first of the year. UPDATE: We are planning to take down the lights the weekend of New Years. The last night that the lights will be guaranteed to be running will be Friday December 30, 2011. The lights will either be taken down Saturday or Sunday depending upon the weather. In November and early December, they will only run auotmatically from 6-9. This will expand to 5:30 - 10pm or later closer to the holidays and on weekends. Just outside of this standard time slot, (from 5pm-6pm and from 9pm-11pm or later) you can still come to see the display, but you must turn the lights on using text messaging. Instructions for using text messaging are broadcast on the posted radio station when in this after hours request only mode.
Tip: For current hours of overall availability, you can text "hours" and you will be sent back current programmed times.
Our display is located here:
1018 Shoshone Trail
Macedonia, OH 44056
Additionally, there is another holiday display that is also synchronized to music literally around the block from us! Just drive around our block following our side of the street. Our block is about 1 mile around and the other display is nearly opposite of us (see map below).