Watch Videos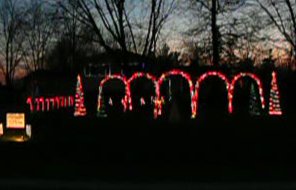 Several videos were taken of the display. Some copies can be downloaded from this site while others are posted on YouTube.
The videos on this site were shot with a digital camera and therefore the quality is not the best. If you also have a video you would like to share, please contact us with it so it can also be included on the site. Do not try to email the video as an attachment as it may be too large. Contact us first so that other arrangements can be made.
Note: Please do NOT post the address of the display on YouTube. We want to avoid excessive traffic associated with heavy public exposure.
2011 Videos on YouTube (High Definition)
2010 Videos on YouTube (High Definition)
2007 Display Videos on YouTube
2007 Videos Hosted for Download (large files)
These videoes are identical to the video hosted on YouTube.
2006 Display Videos on YouTube