Software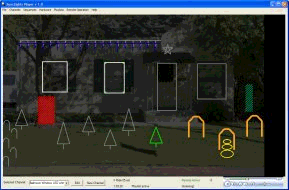 The software for this project was also custom designed. It has since been standardized and documented and is now commercially available. It can be downloaded and used for private non-commercial purposes for free.
You can even download a package that contains the SyncLights Player control channel list and background image used for simulation. You can use this to create your own sequences compatible with our display. If you create something worthwhile, you can email it to us and we'll consider playing it.
Download the background and channel list. These files require the SyncLights Player software.